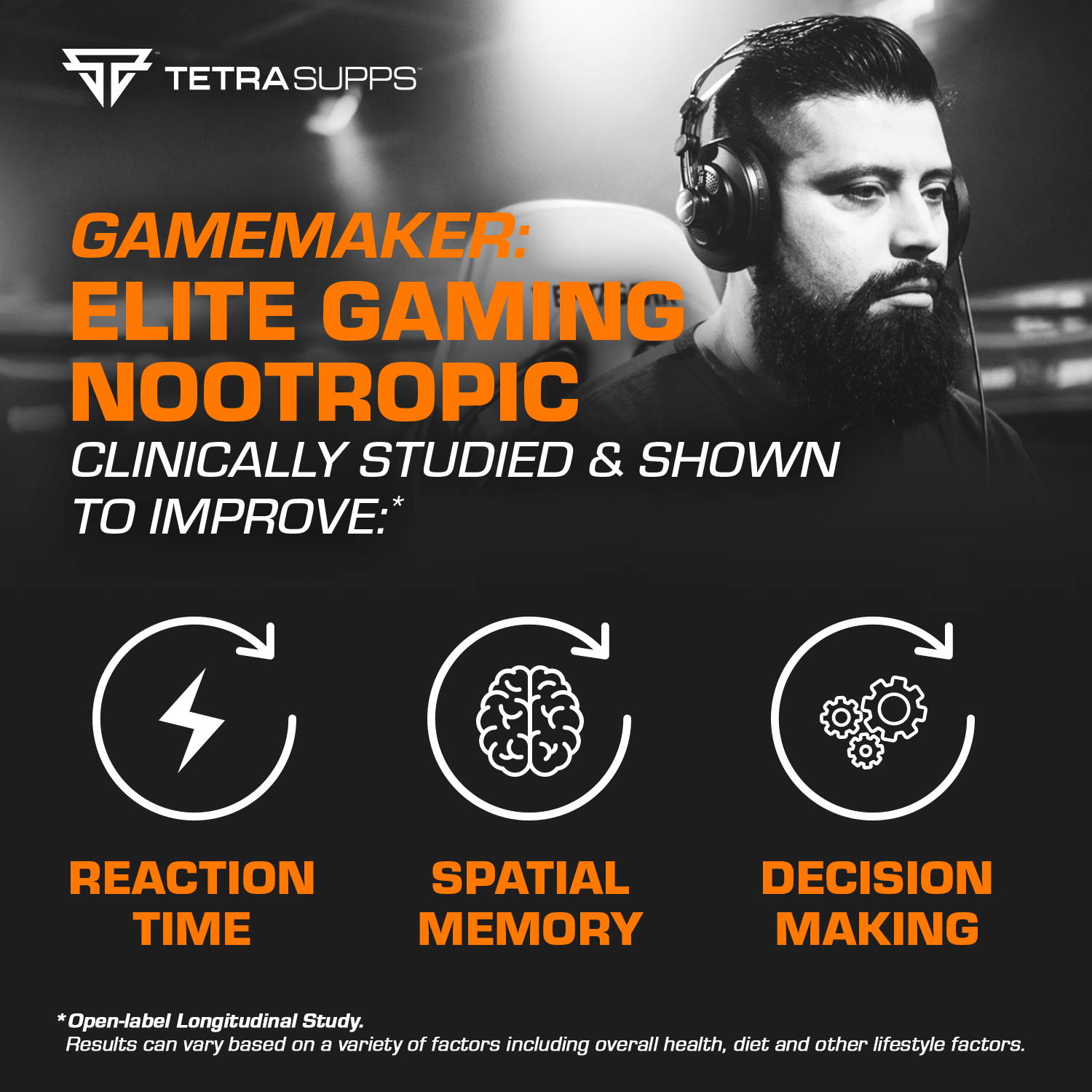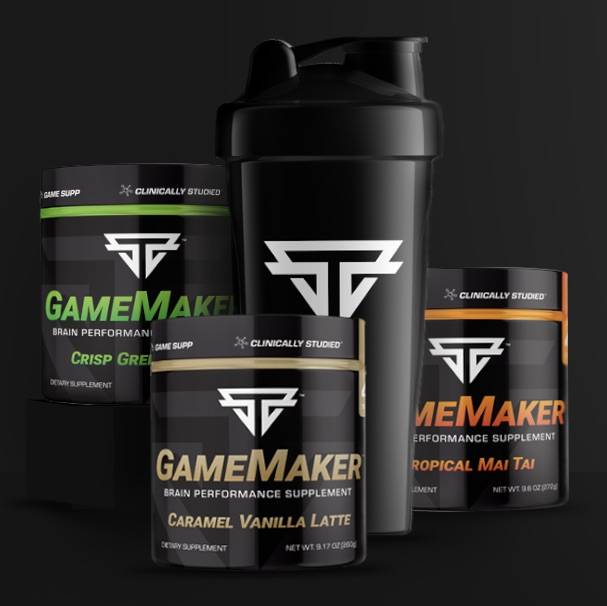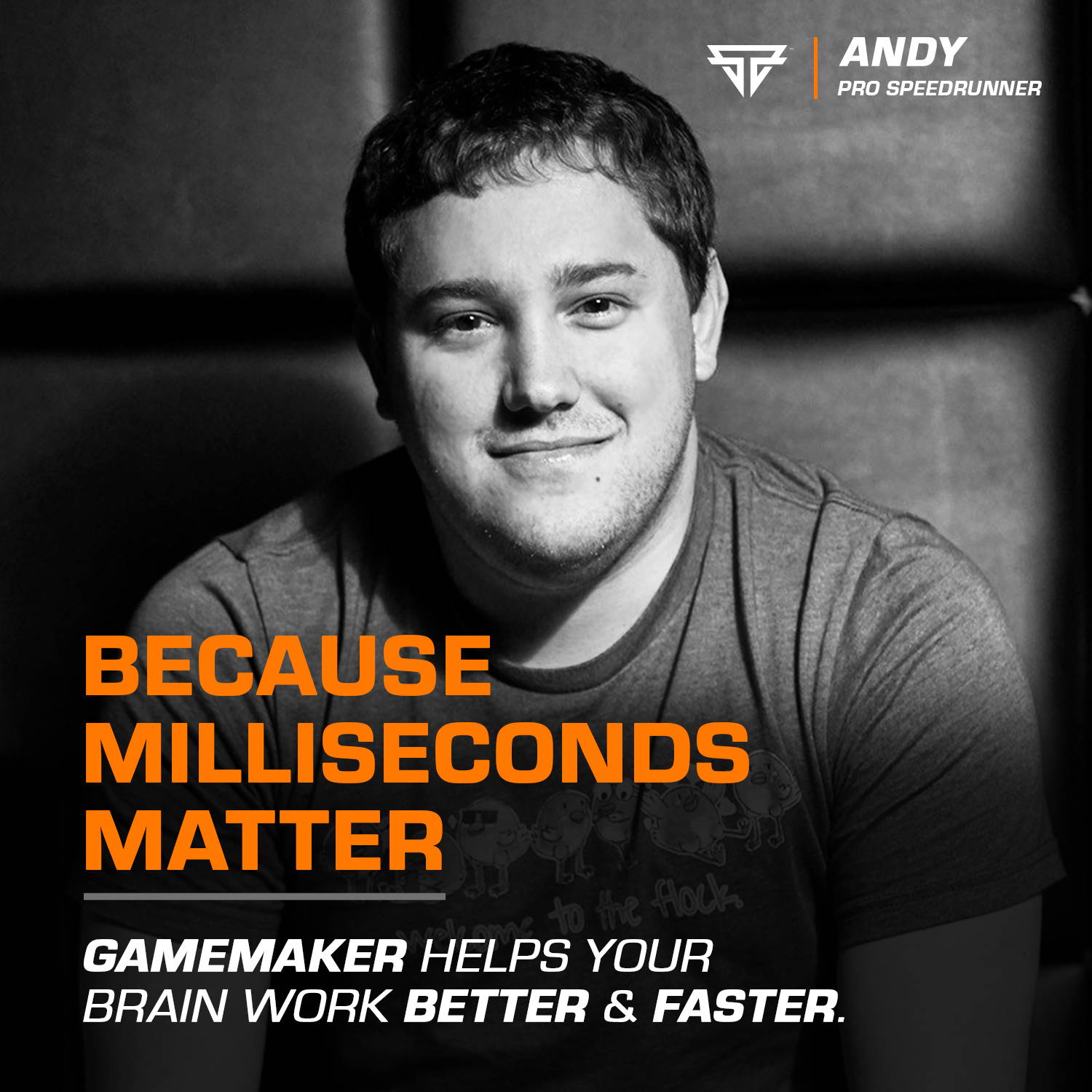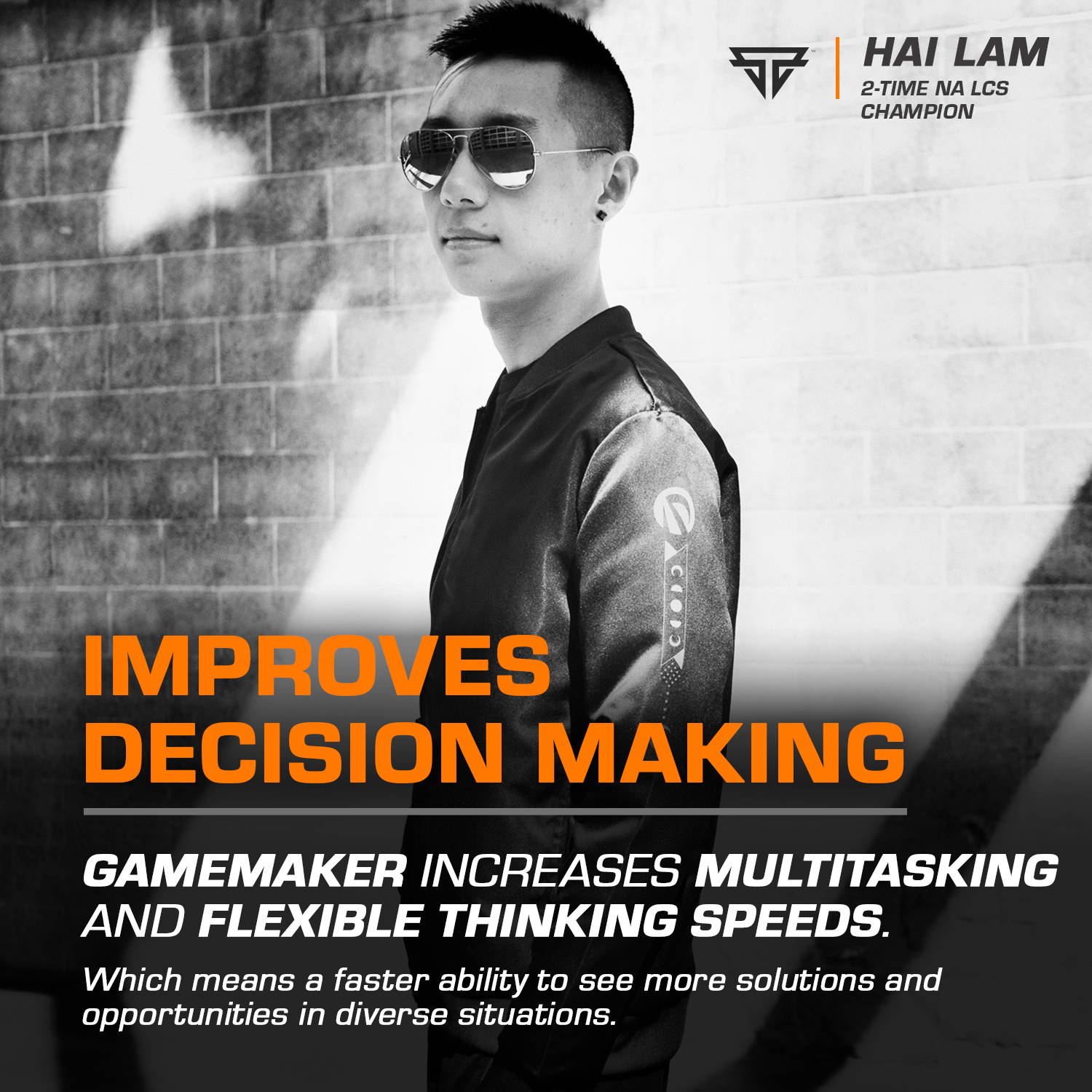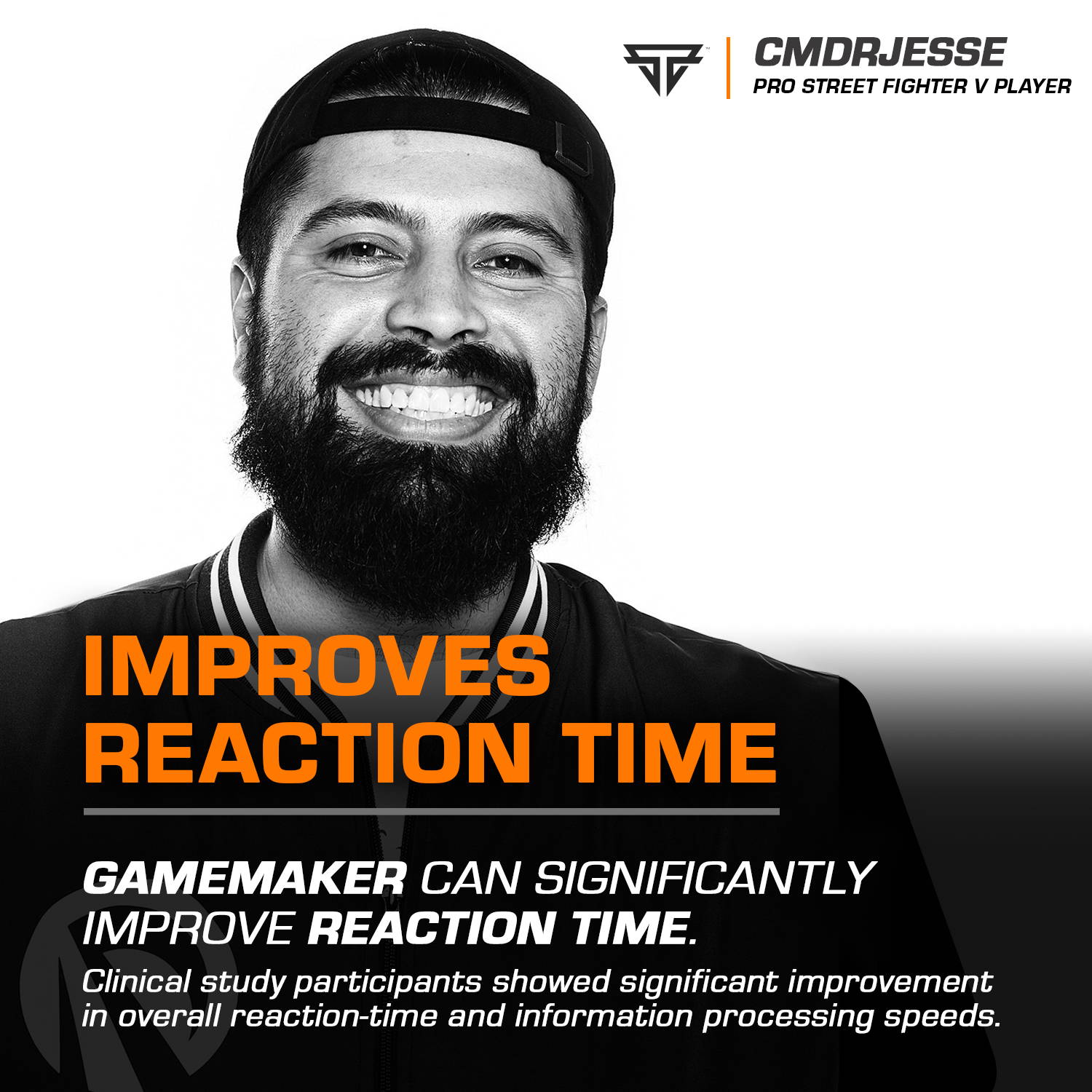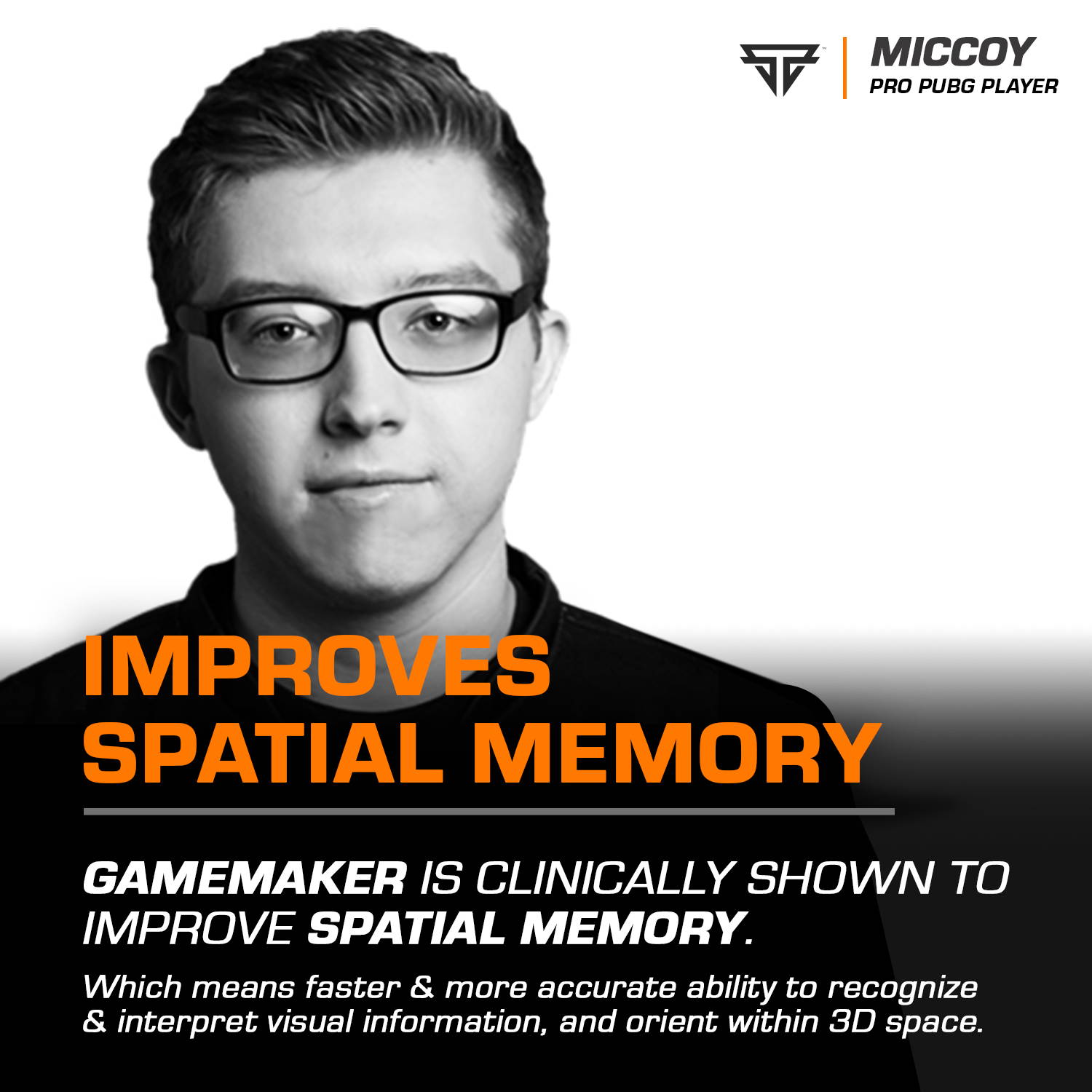 CLINICALLY-STUDIED
BRAIN PERFORMANCE FORMULA

While GameMaker™ is designed, among other things, to give you energy, it's not an energy drink, but rather a powerful clinically-studied* nootropic. There are no stimulants such as caffeine in our formula. Nor will you find sugar, artificial flavors or colors, or GMOs. GameMaker uses naturally-sourced ingredients designed to improve overall brain performance across a variety of vital brain functions.
The clinical study on the active ingredients in GameMaker shows that when consistently used, significant improvement - in some cases over 20% - was measured in the following cognitive functions*:

Reaction Time
Spatial Memory
Short Term Memory
Decision Making
Flexible Thinking
Emotional Intelligence
GameMaker is a clinically-studied formula* designed to be your all-in-one "energy, focus, reaction-time, strategic-thinking, information-processing, spatial-memory and decision-making" brain performance enhancer.

Gaming can often be a neuro-intensive activity with many gamers and esports professionals experiencing "decision-fatigue." Imagine being a shot caller needing to quickly and accurately evaluate a wide range of inputs in order to make important tactical decisions for your team. You'd need a clear, sharp mind that sees the big picture while not missing the details. You'd need to be a strategic problem-solver with good spacial perception and 3D orientation skills. You'd also need to be a quick thinker with an equally quick reaction-time.

These are precisely the skills GameMaker is designed help support.

REPAIRING AND PROTECTING THE BRAIN FROM OXIDATIVE STRESS

The unique patent-pending formula in GameMaker works by repairing and protecting the brain's neurons from oxidative stress and free radical damage.

Did you know that lack of sleep, poor diet, environmental toxins, and other emotional and physical stressors can cause significant oxidative stress and free radical damage within the brain, regardless of your age? These are some of the primary factors that contribute to diminished brain function. The good news is that the brain can repair itself and GameMaker can help.
Protect the brain against free radical damage
Repair damaged fats in the brain
Remove toxins from the brain
Assist the natural brain repair processes
*Open-label Longitudinal Study. Results can vary based on a variety of factors including overall health, diet and other lifestyle factors.